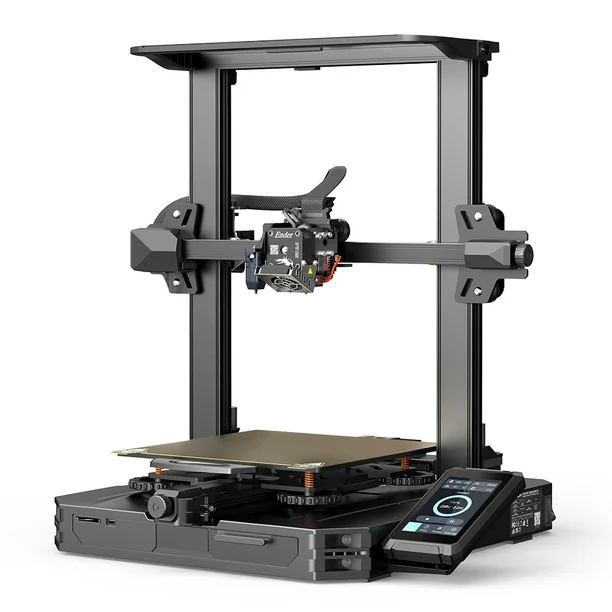 High Performance, High Temperature Robust 3D Printer
Looking to dive into the exciting world of 3D printing? Meet your perfect companion – the Ender 3 S1 Pro Compact 3D Printer. This innovative printer is meticulously designed to cater to hobbyists and beginners, offering a seamless and user-friendly experience that will ignite your creativity.
Ender 3 S1 Pro is designed to offer precision printing, ease of use, and a large build volume, all in one sleek package
Whether you're a beginner or a seasoned pro…
 Ender 3 S1 Pro is designed to deliver exceptional results every time.
Rs 210,000/-
Add buy now and add to cart button after this content
The Smart High-Temp Printer Empowering Your Projects
Ender 3 S1 Pro printer features a brass nozzle which can bear temperature range upto 300°C,
Smart 4.3-inch Touch Screen
Experience Easy Click Control using 4.3-inch Touch screen that offers extremely efficient User Interface.
Say Goodbye to Headache of nozzle clogs Experience our new 'Sprite' full-metal Dual-Gear Direct Extruder
Observe Your Designs Clearly Even in Darker Conditions
Simple and Quick Assemble with Easy Handbility
A printer with next-level smart features for enhanced productivity
Reduced Risk of Printing failure due to power outage 
32-Bit Silent Motherboard
Powerful Operations with minimum noise
Automatic Filament Detection to inform before filament runs out 
Steel PEI Magnetic Build Plate
Strong Adhesion and Effortless Removal of Printed Models by slight bending
CR Touch Automatic leveling
16 point Automatic Leveling provides Great efficiency and saves your time
Ender 3 S1 Pro offers Versatile Filament Options
Compatible with Laser Engraving
| | |
| --- | --- |
| Technology | Fused Deposition Modelling(FDM) |
| Machine size | 490 x 455 x 625 mm |
| Print size | 220 x 220 x 270 mm |
| Product weight | 8.6 kg |
| Package weight | 10.7 kg |
| Heat bed temperature | ≤110℃ |
| Supported Filament | PLA, PET-G, TPU, ABS, PA |
| Layer Height | 0.1-0.35mm (rec 0.2) |
| Slicer software | Creality Slicer(rec)/Cura/Simplify3D/Repetier-Host/ |
| Print precision | ±0.1 mm |
| Filament diameter | 1.75mm |
| Support OS | MAC(10.9 and higher) / Windows(7 and above) / Linux |
Warranty: You get access to official Creality One Year Warranty. Read our Warranty Policy for details..
Expert Support: Avail Grit 3D Special Customer Care Package which includes
Grit 3D Ecosystem: Join our official community groups and online learning center to access free educational resource material helping you throughout your 3D Printing journey
Exclusive Benefits of Buying Ender 3 S1 Pro from Grit 3D
Make Question on button and on scrolling to button answer slides down
Grit 3D offers one year warranty and after-sales support all across Pakistan. We have an online support team that can assist with technical issues and keep customers updated on the latest updates and technical knowledge.
Yes, Grit 3D offers easy, secure payments and fast shipping through M&P Courier if ordered before 5 pm. All transactions are secured and protected to safeguard customer privacy.
Yes, Grit 3D offers a 100% money-back guarantee with no questions asked, as well as the option for replacement or exchange.
Yes, the Ender 3 S1 Pro 3D is compatible with a wide range of slicer software, including Creality Slicer, Simplify3D, Cura, and more.
The Ender 3 S1 Pro 3D printer uses 1.75mm filament diameter.
The maximum print volume of the Ender 3 S1 Pro 3D is 220 x 220 x 270 mm.