Ultimaker S5
Powerful, reliable, versatile 3D printing
The new, dual-extrusion Ultimaker S5 is Ultimaker's most advanced 3D printer to-date, with the clear objective of meeting the needs of professional users. The most noticeable feature is the larger build volume which, at 330 x 240 x 300 mm greatly increases the range of the S5's potential applications. 
Moreover, the S5 comes equipped with a number of technological refinements such as:
Interactive LED touchscreen with

3d printing

previews

Enhanced adaptive bed leveling

Filament flow sensor

Glass doors for enclosed build chamber

Hardened components suitable for abrasive materials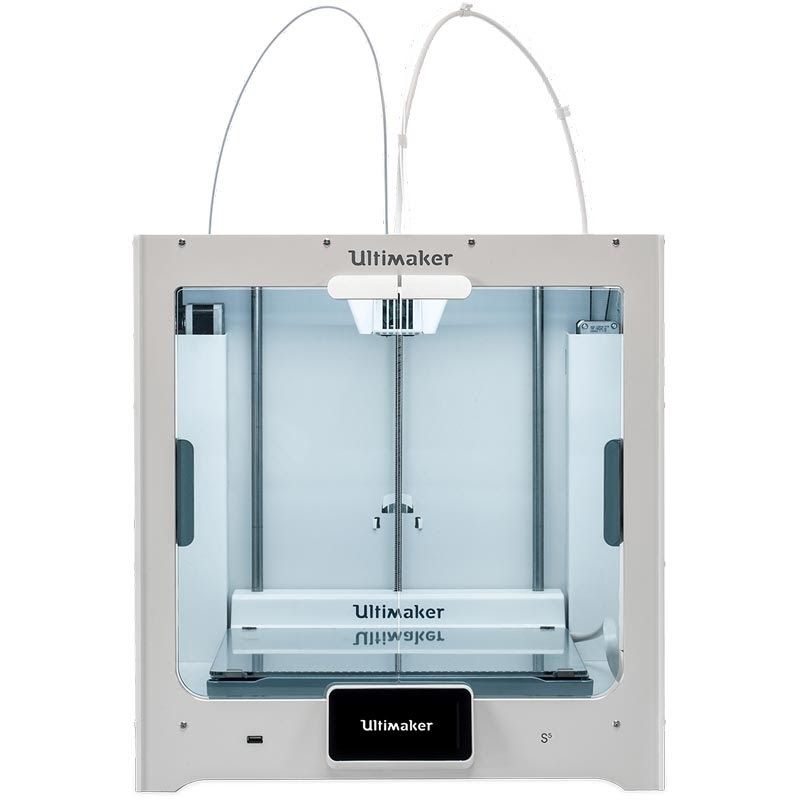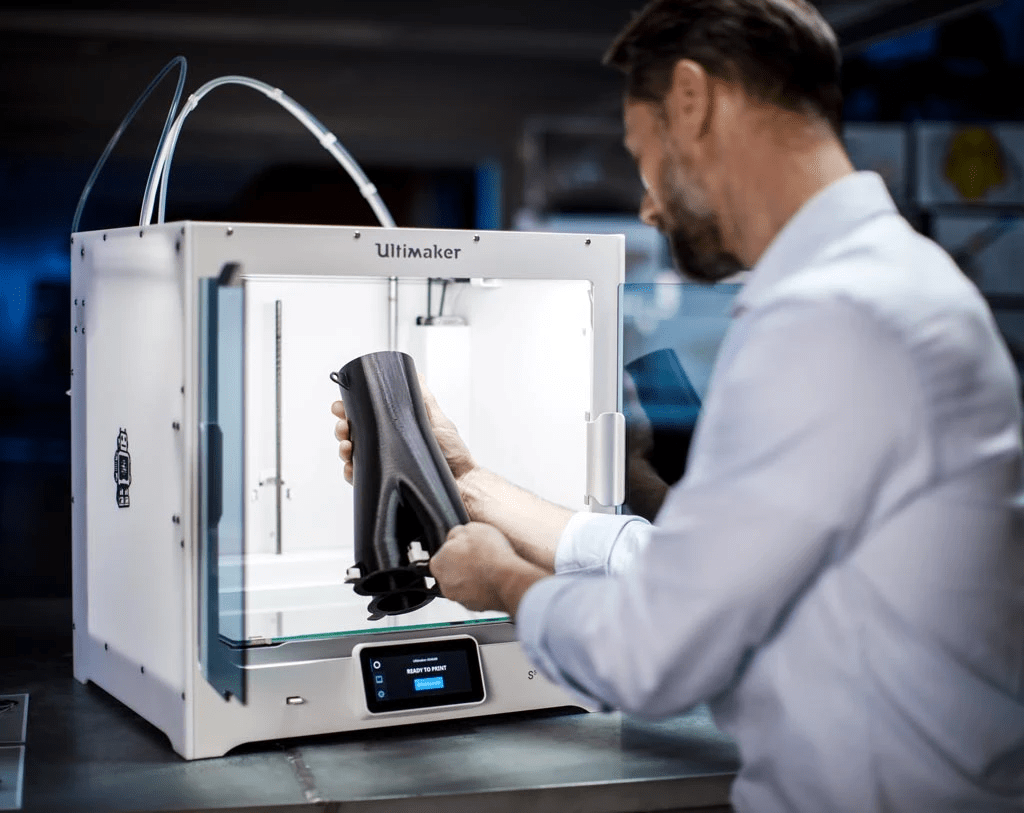 Enhanced Reliability and Increased Efficiency
The print bed in the Ultimaker S5, with rare exceptions, never needs to be manually leveled. You can unbox your machine and begin printing immediately. The active bed leveling system ensures perfect first layer adhesion for every 3D print job.
Maximum Uptime and Flexibility
Ultimaker's proven print core design is incorporated in the Ultimaker S5 3D printer. The print cores can be swapped within a matter of seconds. There is a range of nozzle sizes that you can choose from, 0.8 mm, 0.4 mm and 0.25 mm – all depending on your 3d printing job requirements and 3d printing job application.
Easy Touch Controls
This 3D printer comes with a brand new touchscreen system that provides an intuitive interface for the management of 3d printing jobs and machine maintenance. The touch screen in the Ultimaker S5 even includes a visual preview of each print job. The enhanced user experience will provide both new and experienced Ultimaker users with quick and efficient 3d printing jobs.
Connectivity like Never Before
With built-in Wi-Fi and Ethernet connectivity, combined with the new iOS and Android mobile apps provide maximum connectivity to the Ultimaker S5 3d printing machine. You can now deploy the latest firmware upgrades with minimal interruption and efficiently manage your print jobs whether you are on-site or off-site. When the 3D printing machine is connected to your local network, you can monitor your print jobs using the printer's onboard camera via your mobile phone. 
Filament Freedom
The selection of the correct material and using the appropriate 3D printing settings for that particular material is something that is responsible to the success with of your 3D printing operation. Fortunately, the Ultimaker S5 3D Printer has an "open filament system" which allows users to 3D print with any 2.85mm 3D printing filament.
You can now buy 3d printer Ultimaker S5 from Grit 3D at a reasonable price. Grit 3D offers the best 3d printing machine at the best 3d printing machine price. When you buy 3D printer from Grit 3D , you get full pre-sales and after-sales support and hands-on training regarding the 3D printer and how to operate the 3d printing machine. This is an exclusive offer and at this 3d printer price, you will not get any such offer anywhere in Pakistan.
TECHNICAL SPECIFICATIONS
Technology: FDM
Print Head: Dual extrusion print head
Build Volume: 330 x 240 x 300 mm
Filament Diameter: 2.85 mm
Build plate: Heated glass build plate
Build plate temperature: 20 – 140 ℃
Build plate leveling: Active leveling
Supported materials: PLA, ABS, Nylon, TPU, PVA
Nozzle diameter: 0.25mm, 0.4mm, 0.8mm
Connectivity: WiFi, LAN, USB port
Display: 4.7 inch Touchscreen
Monitoring: Live Camera